This Vintage Jungle Home Is Oh-So-Cool: How To Recreate The Look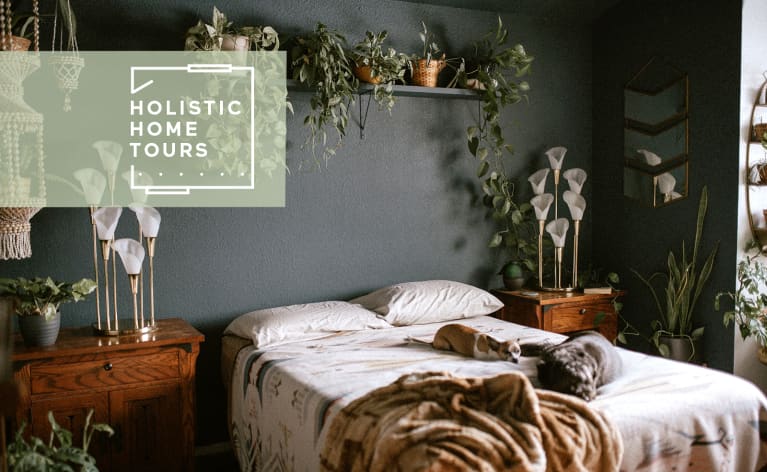 Our editors have independently chosen the products listed on this page. If you purchase something mentioned in this article, we may
earn a small commission
.
On a quiet cul-de-sac in Missoula, Montana, you'll find Nichole Stolin's vintage jungle of a home. @wildly.rooted on Instagram, Nichole loves mixing secondhand gems with plants and funky textiles to craft a style that's all her own. Here, she gives us a walk through her space and shares some of her favorite ways to turn a home into a sanctuary.
I love all the secondhand pieces in your space! What are your top tips for shopping for used furniture?
Thank you! Be patient and look constantly, especially if you're looking for specific pieces. It can take months or even years to find exactly what you're looking for when searching secondhand, but it's always worth it when you finally do.
Also, ask people if they have or know anyone who has pieces they're getting rid of, and look off the beaten path. That person with a garage full of stuff may have what you're looking for. If you're looking in thrift stores, you have to go consistently to try to beat others to the goods.
Always buy quality secondhand items, too. That way, when they no longer serve you, they will still have value so you can sell them to purchase something that will work better for you.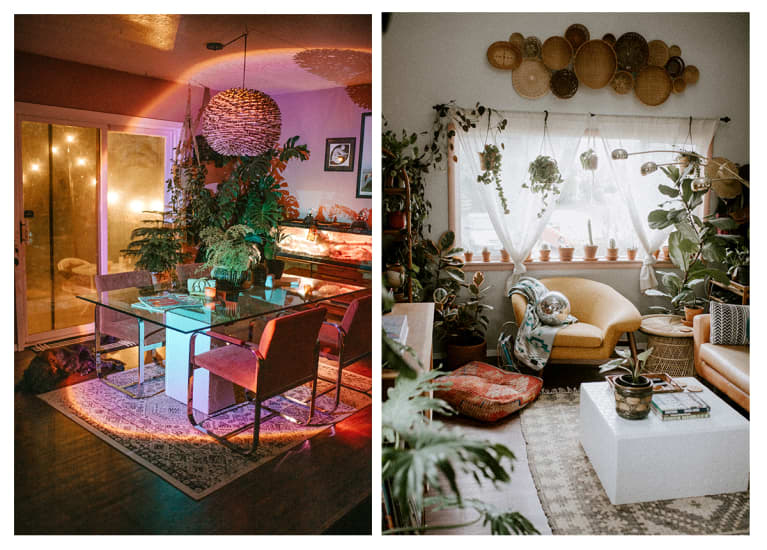 How often do you change up the decor of your home? What are some small changes you've found make a big difference?
Constantly! It's different today than it was last week and the week before that. Anytime I find something that will work better for my space, either functionally or aesthetically, I'll switch stuff out. And with all the plants getting so big, they're starting to take over some furniture space, so I've been having to adjust to that.
As for small changes that make a big difference, I'd have to say painting: A new coat on the trim will instantly spruce a place up. I just painted the '70s hood range in our kitchen from yellow/off-white to black, and it really affected that space, too.
Another small thing I've been into lately is putting contrasting pieces together. A plaster tray on a wood credenza with a ceramic lamp and a brass figure just looks more intriguing than having all-natural elements or all hard pieces.
What object in your home brings you the most joy and why?
Oh wow, that's hard to say! Probably our Joybird couch because I spend a lot of time on it, and the dresser that I'm using as a credenza underneath the TV. It's a true hardwood piece and the first piece of furniture I fully refinished. I really love it.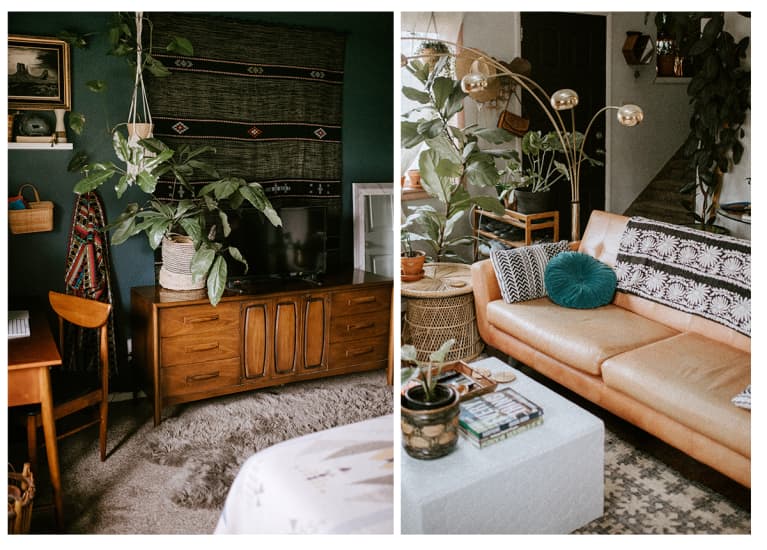 What's the oldest thing in your home? Newest?
The oldest is a 1940s hand-woven wool blanket from Morocco that I'm using as a tapestry in our bedroom to cover a patched-up window. And I recently purchased a console table from the '90s from Goodwill for my plant nook in the bedroom; that's the newest to the home!
What noises can be heard in your home? What smells are there?
You can hear the neighbor's kids playing, birds chirping, the dogs playing, horses neighing, my husband watching TV in his room, and I'm probably playing a true-crime podcast or some house music.
I've been on an essential oil kick of cedarwood, sage, and lemongrass, so that's probably the most dominant smell.
How does your home support your health and well-being?
I have pretty bad anxiety, and working at home has really made me realize how I need it to be a place where I can relax and have everything I need around me on those bad days. Lots of cozy items like blankets, pillows, candles, essential oils, and plants help me to feel less anxious. The plants help me because there's always some calming maintenance to do with them—repotting, fertilizing, making cuttings, cleaning leaves, etc.
In general, it's just a happy place to me.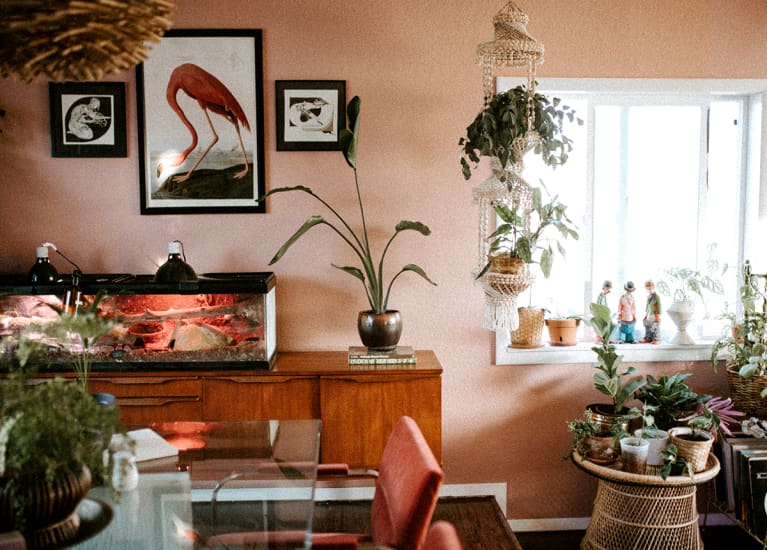 What's the most sentimental thing hanging on your walls, and what's the story behind it?
My husband and I really love unique art. For Christmas, he bought a wrapped canvas of our dogs' heads put on the poster of Step Brothers, and it's one of my favorite things!
What does the word home mean to you?
To me, home should be your sanctuary.