This Arizona Home Has 91 Houseplants & Infinite Styling Inspo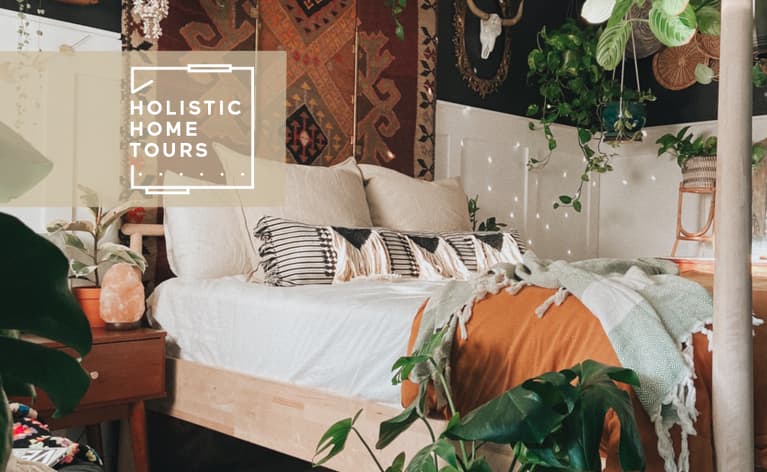 Our editors have independently chosen the products listed on this page. If you purchase something mentioned in this article, we may
earn a small commission
.
Old meets new in Haily George's (@mybohojunglebook on Instagram) lush house in Mesa, Arizona. George pairs antique and vintage finds with a thriving collection of plants—91, at last count—for a comforting space that tells a story. We asked her about the joys of living among greenery, the best places to score secondhand steals, and the true meaning of home.
What are three words that describe your design philosophy at home?
Well-traveled, vintage, and earthy. These three things always seem to find their way into my design plans.
What inspired you to fill your space with houseplants? Was there an "aha" moment, or have you always loved keeping greenery at home?
Moving to the desert from California, and being from Michigan originally, I was really missing the lush, green outdoors. It can be hard to find that living in the Valley, so I wanted to bring all the greenery into my home to enjoy. During the pandemic, my plant collection really started to take off since we were held up inside even more.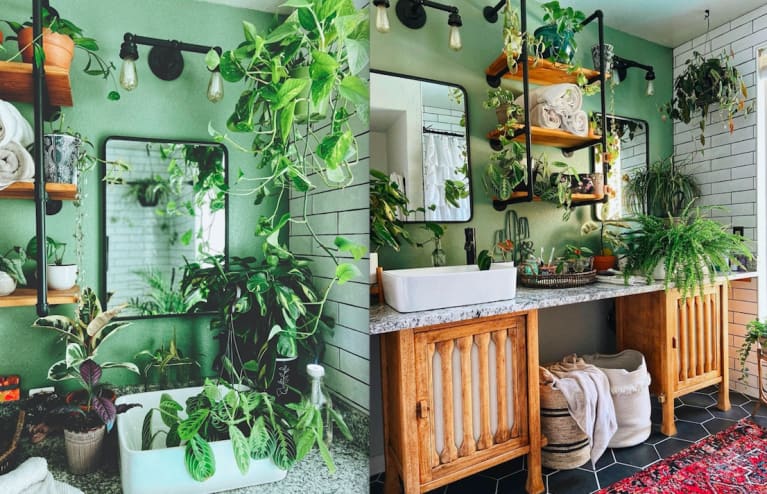 What's your favorite part of being surrounded by so many plants?
Being surrounded by my plants makes me feel at peace, and I could spend endless hours gazing at them. I am overjoyed when I see they are thriving and growing happily in our home.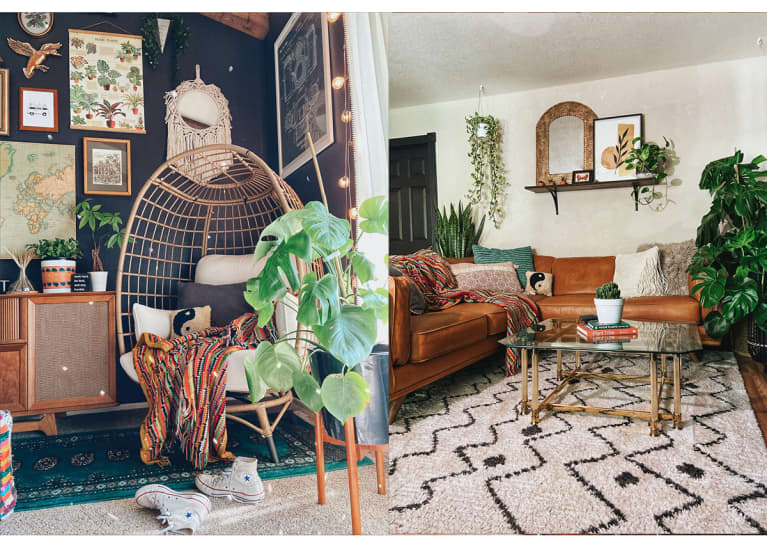 Do you have a favorite vintage find you've snagged over the years?
I have thrifted a lot of the furniture in my home, but I think my favorite piece would be our fireplace mantle that I used in my DIY fireplace/living room transformation. I think it is definitely one of the bigger transformations in our home we've created through home projects.
Where do you typically shop for vintage home goods? Do you have any tips for finding affordable, high-quality pieces?
There are so many great thrift shops throughout the valley in Arizona that I often visit. I also love to hit up seasonal flea markets for great vintage finds. I am always actively browsing Facebook marketplace for good steals as well. And every once in a while, I get lucky with Goodwill too!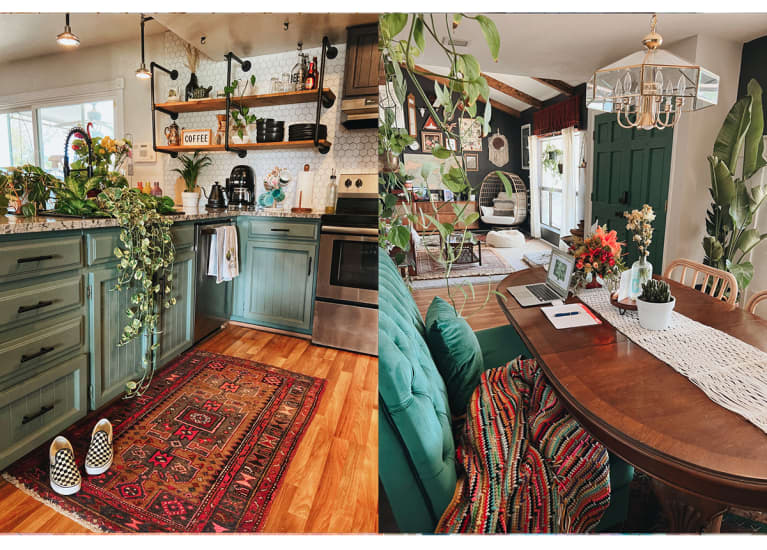 What noises can be heard in your home? What smells are there?
Our house is surrounded by a lot of different birds, so you can hear them chirping all day long, along with my guard dog always keeping watch on our deliveries. I like to almost always keep fresh flowers in our dining room, so you can usually sense a floral aroma in combination with my favorite sage and citrus incense when you hang out with us.
What object in your home brings you the most joy and why?
I think my record player is currently the item that brings me the most joy for a couple of reasons. One is that music is such a necessity in my daily life. I am so happy and more productive when listening to music. I've also heard that music may help with plant health, which to me makes sense as they are living creatures too! The second reason is that my record player was secured through one of my very first brand collaborations. That brought me so much joy and helped me realize that I could actually make something for myself using my creative abilities.
How does your home support your health & well-being?
For me, my home is a direct reflection of my health and well-being. I put so much love into it, and now I love the energy it brings me. After recently leaving my corporate health care job, spending time in a space that makes me happy has done so much for my mental health.
Home is my inspiration. It's where I feel totally free to express myself.
What does the word home mean to you?
Home is my inspiration. It's where I feel totally free to express myself. It's where I feel comfortable enough to produce content for others to enjoy and find inspiration as well. It's also an opportunity for me. An opportunity bigger than what I probably realized initially. It's definitely my safe space.